Lekang Filter in Norway was present during the reopening of the "Sun and Earth" Fountain. They supplied filters for the water treatment system in 2022 and have been eagerly following the construction work. After a complete renovation and the sound of trickling water, the fountain outside Oslo Central Station is worth a visit.
The "Sun and Earth" Fountain is located at Christian Frederik's Square in Oslo, one of the busiest pedestrian areas in the city because of the Oslo Central Station next by. The rehabilitation of the fountain system began in November 2021 and was completed in June 2022. Due to water scarcity in Oslo last year, the water was turned on in 2023. Now, city dwellers, train commuters, and tourists can rejoice as the water returns to the magnificent fountain that has been dry for 20 years.
Lekang Filter was present during the fountain's reopening, organized by the City Environment Agency in Oslo. We also had a tour of the technical room to see the large water filters installed in the water treatment system.
A brief view into the technical room to take a closer look at the water filters
The Norwegian company Ceva has provided technical services for the water treatment of the "Sun and Earth" Fountain, as well as the installation of the water filters in the technical room. The strainer works as pre-filter, and the automatic filter works as fine filter. The capacity is 270 m3/h.
Go to the reference with pictures from the technical room and technical data on the two filter solutions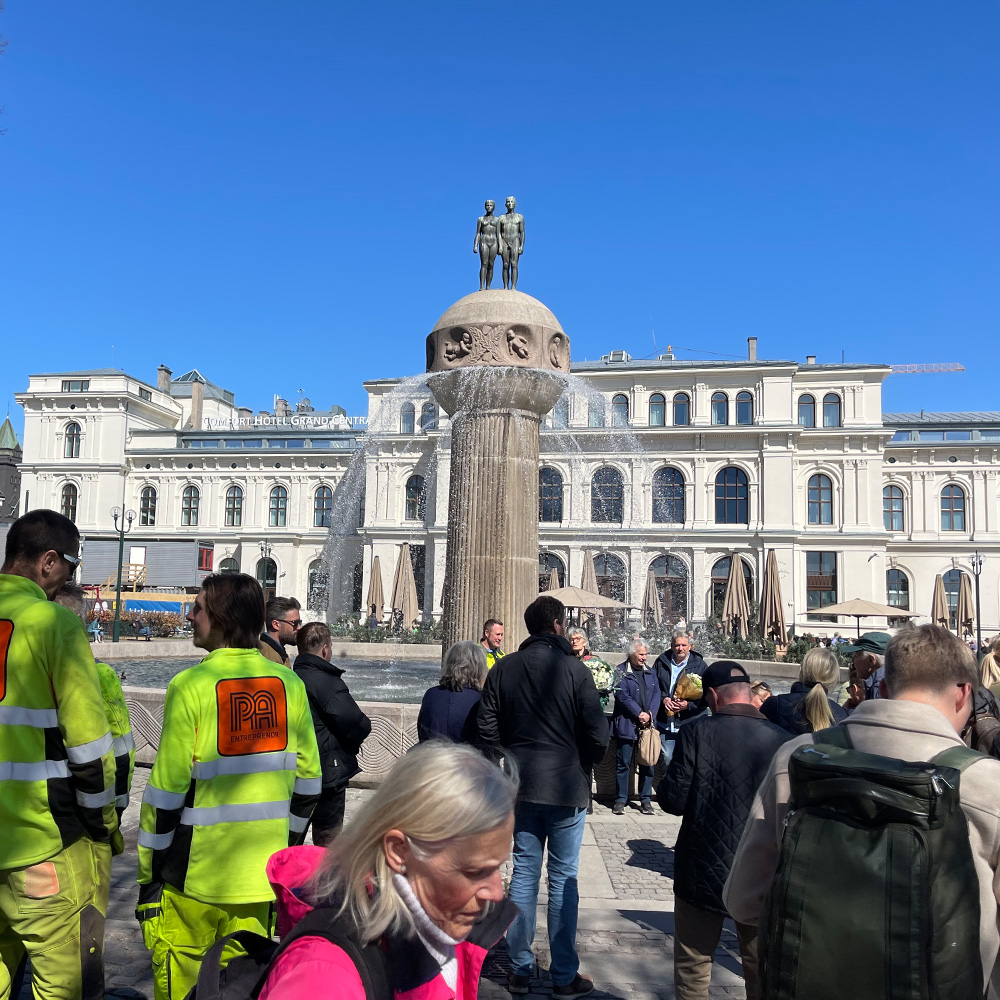 The Story of the "Sun and Earth" Fountain
The "Sun and Earth" Fountain was created by artist Ørnulf Bast in 1936 and was a gift from the Norwegian America Line to the city of Oslo. The fountain was first installed and put into use in 1986.
The fountain complex is a tribute to the emigrants who emigrated to America in the 1900s with the America Line. The water in the fountain symbolizes the Atlantic Ocean. At the top of the central column, there is a man and a woman standing on the globe, gazing out over the sea.
Rehabilitation of the "Sun and Earth" Fountain
The fountain's technical room has been filled with saltwater, and all technical components have been replaced. The stone surfaces have been restored, and the granite blocks on the steps have been put back in place. The fountain system has received a new water connection, lighting, and electrical system, in addition to fixing any leaks.
The Sun and Earth Fountain rehabilitation was run by Oslo Municipality "Bymiljøetaten" (Norwegian text)