Lekang Group is a strong and long-term supplier of high quality filters and contamination monitoring equipment for construction, transport, agriculture, industry, marine, aquaculture, offshore, oil and gas markets. Our vision is to simplify our customers everyday business through knowledge, quality and efficient services.
VISION
We simplify our customers' working days through knowledge, quality and efficient services.
Lekang Group companies
Lekang Filter AS, Norway
Filterteknik Sverige AB, Sweden
Filterteknik A/S, Denmark & Germany
Filterteknik Suomi OY, Finland
Lekang Group is owned by Indutrade AB in Sweden.
We have offices, warehouses, customer service and technical support in Norway, Sweden and Denmark and sales offices in Finland and Germany. Lekang Group have Scandinavia's largest storage capacity of filters, with 12,000 unique products in stock.
We are 72 people altogether to support you with filter issues, and we have over 50 years of experience within filtration.
HISTORY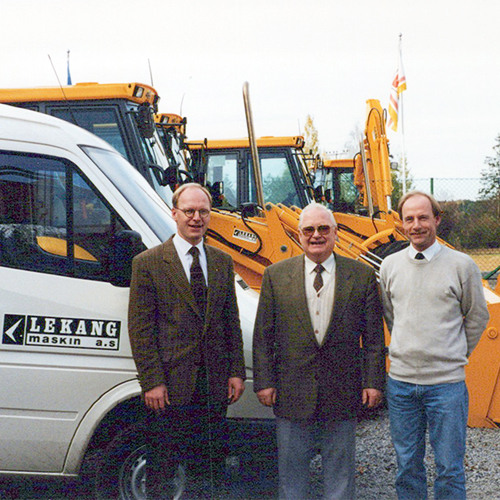 1970
Lekang Maskin was founded by the Lekang family, in Norway.

1975
Lekang Maskin AS became Fleetguard filter distributor.

1980
First version of Lekang filtersystem software.

1986
Filterteknik Sverige AB was founded by Gösta Larsson and Egil Lekang.

1997
Filterteknik A/S in Denmark, was founded by Carsten Kildegaard and Egil Lekang.

2000
First customer version of Lekang filtersystem software.

2007
Lekang Maskin AS, Filterteknik Sverige AB, Filterteknik A/S in Denmark form Lekang Group.

2010
Lekang Group was acquired by Indutrade AB

2018
Lekang Maskin AS in Norway change company name to Lekang Filter AS.

2020
Lekang Filter/Lekang Group 50th anniversary.

2021
Filterteknik Sweden establishes the subsidiary Filterteknik Suomi Oy Filterteknik Denmark A/S establish a sales office in Germany