LFS helps you to find the right filter for the right machine and simplifies filter purchases for the whole machine park. For more than 40 years Lekang Group has developed and designed this unique filter system, which today appears as a user-friendly web application with filter data, machines and a webshop.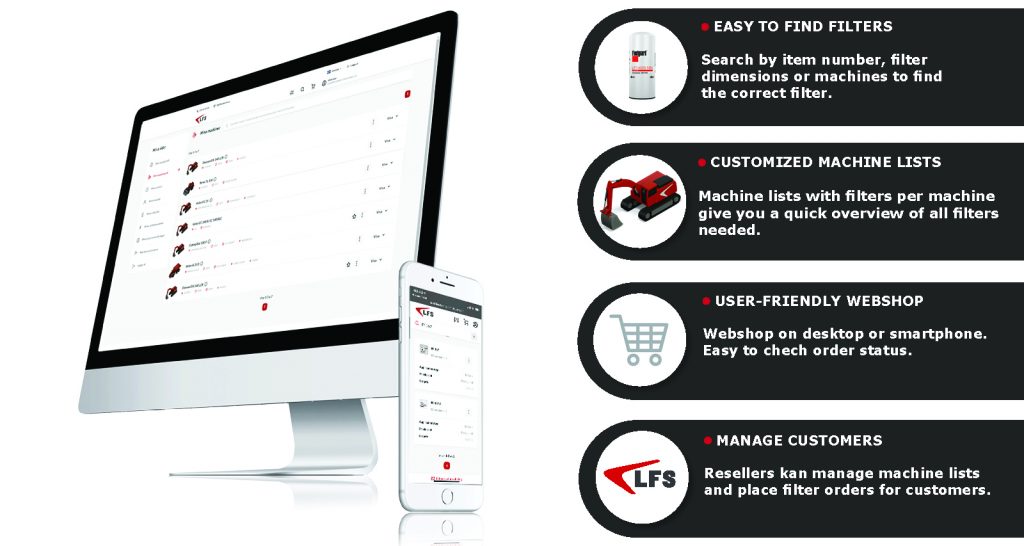 In LFS you can search by item number or filter dimensions you have in place and find a product with the same quality, or even better than the original. The more machines you work with, the more suppliers and filter numbers you need to control. Any fleet of vehicles, vessels or other applications with filters are all dependent on the right filter at the right time to keep production running.
The LFS machine lists give you the whole picture of all filters needed and simplify purchases and inventory levels. Many vehicles and ships work 24 hours a day, and there are several people who maintain them. If you do not have the most critical filters in stock, there is a risk for costly downtime.
In LFS it is easy to place filter orders, and track the order until delivery takes place.
LFS simplifies the customers everyday business
We want to simplify the process of finding the right filter for the right machine, and LFS has been developed according to the customer needs.
Some of the LFS benefits:
Search by filter number, filter dimensions or machine.
Customized machine lists – show all filters per machine of the entire machine park
User-friendly webshop
High quality filters for optimal protection of your machines
Resellers can manage machine lists and filter orders for their customers
All filters from one supplier
Smoother maintenance and lower operating costs
LFS is developed by Lekang Group. Lekang Group consists of Lekang Filter in Norway, Filterteknik in Denmark, Filterteknik in Sweden and Filterteknik in Finland. In 1980 we were the first in the Nordic region to create a filter system, to simplify our customers everyday business. We are the original, and by gathering the knowledge and data in one place, we are the customer's filter expert.
How to get started?
LFS is developed for our customers. Please contact the respective company below with your request.